Gateman A20 perfect solution for sliding doors
Posted on July 15 2017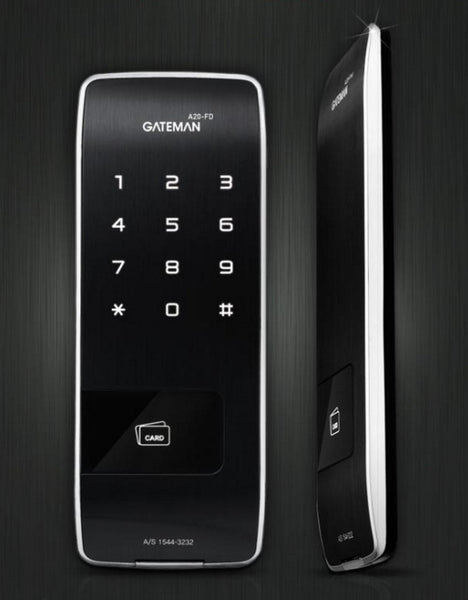 The Gateman A20-FD can be used on doors that open inwards (i.e. most of the doors in Singapore).
Here's a big picture of this gloriously nice looking lock. It is not as big as the picture but I thought it deserves a big presence here. Beautiful and thin looking device with only 10mm thickness.
This digital lock is unbelievably sleek and good looking. The picture doesn't do it justice – you actually have to hold it in your hand to grasp how desirable this thing actually is. Even as a neutral observer, I slightly rue installing a less aesthetically pleasing lock just as this one came onto the market.
It's of matte black and silver and is incredibly thin. It has no sharp edges – it's all curved and the contours are like those of a racing car. All in all, it gives me great pleasure to hold it in my hand. The touchscreen is very pleasing as well – the white lights are understated and not too glaring, which fits extremely well with the minimalist exterior of the lock.
If you're looking for something that screams classiness while looking modern, this is the lock for you.
The price is also very reasonable for such a well designed and built rim lock, compared to some of the third tier lock manufactures in Korea – with typical plasticky body such as Epic (H-Gang)  and Evernet (LogHome) which were typically sold of eBay.
However, while the aesthetics completely demolish everything else currently on the market, take note that in terms of functionality, it quite unique with a double claw bolt, a safer double layer OPEN/CLOSE button. And the construction is rock solid (compared to the Samsung plastic feel!  It's a wholesome lock (looks included) at a wholesome price.
 Check it out at
https://www.yourdigitallock.com.sg/collections/sliding-door/products/gateman-a20-fd-digital-lock